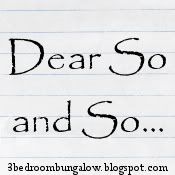 Fellow blogger Joanie has done many Dear So and So letters.  Then Alix started doing them.  They both do such an excellent job, I thought I'd take a stab at it.   I'm not going to explain the letters, just read, you'll get it.  It's taken me weeks to finish this list.  I come up blank for topics so I doubt I'll be doing this regularly.  Maybe irregularly.  Hmmmm, that sounds like I need a laxative or something.  Anyway, I present to you, my Dear So and So. 
Dear Cigarettes,
10 months after our break up and you still continue to taunt me.  You and your friend, Nicotine, are simply relentless in your pursuit of my unhealthiness.  Stop calling me!
Formerly Addicted,
Yours No More
Dear Clea,
You are a cat.  You need to relax in the morning.  I'll feed you when I'm good and ready.
Sincerely,
Never Good & Ready
Dear Senility,
I'm not ready for you.  I'm too young.  I've had to buy a freakin' pill box with the day of the week stamped atop since I can't remember if I took my damn pills or not.  Go away.
Yours… What The Hell Was I Just Gonna Do?
Dear Headphones,
Thank you for your continued support in my cardio health.  I'm sorry I washed you with my gym clothes.  I'm grateful you still worked in all your squeaky-cleanliness.
Sincerely,
The Erroneous Laundry Slave
Dear Perspective Employers,
I'm very professional.  Pick me!  Pick me!  Pick me!  Oooooo, ooooo.
Professionally Yours,
Mr. Garret XXXXXXX Jr.
Dear Readers,
If you enjoy these Dear So and So's on Fridays, try your own hand at one!  Pop on over to Kat's place, grab her button and put it on your blog!  Put your name on Mr. Linky and you'll be linked right up!  C'mon!  You know you want to!