Saturday, it was my birthday!  Jim asked me what I wanted to do and as typical, I gave said "I don't know."   He then planned out part of the day.  First up, a trip to Monro Muffler and Brake but this time a different location.  The brakes are grinding so bad it's ridiculous.  A few weeks ago I had called them and told them I moved to the area recently and wondered if they'd be able to see my history with another store.  They said "no".  This is good for me; being my 8th trip/problem with the brakes I decided to play dirty.  We dropped off the Jeep telling them we were tired of "some other shop" and that we just needed resolution.   Later they said they couldn't duplicate the problem and everything looked fine but they had suspected low quality brake pads.  Really?  I waited for them to put it back together and took a roadtest with an employee or manager or whatever he was.  Once I made a firm stop I got them to grind on every single stop thereafter.  He agreed they were bad.  I admitted all about the Concord location and he was going to research and get a hold of the District Manager who I've spoken with before.  He was apologetic and seemed helpful.  We'll see.  (As of the time of this posting, I haven't heard anything back.)  We left the Jeep there in the meantime.
We went to JCPenney to return that ruined shirt.  The cashier/clerk person joyfully allowed me to exchange it.  She said, "you shouldn't wash pink and blue together."  Normally I might have been offended but since she agreed to replace it first and say that after I joyfully accepted her feedback with a chuckling reply of "well, I'm 42 and have been doing laundry a long time and haven't had any problems…"  I did thank her again for making the exchange.  Perhaps this was my first deep, deep blue shirt?
Next up over to Mellow Mushroom for pizza.  It was OK.  I like Tony's and Revolution Pizza which are more local than chain.  Next door was a Kilwin's Chocolates.  50% off everything closing sale.  "Lost our lease." This is a franchised business.  Jim asked where they were moving to and she said they hadn't found a place yet.   I thought that was strange.  Several of the things Jim got were stale but soooo cheap it wasn't worth returning.  The small chocolate covered pretzels and Nilla Wafers were stale.  My selections were good.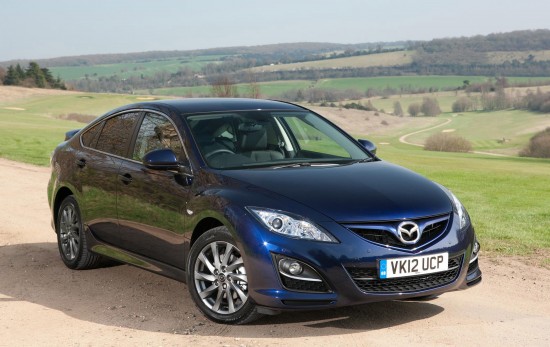 Jim had heard a Mazda of South Charlotte dealership vehicle ad, "2012 Mazda 6 lease $1500 down, $125 a month".  Too good to be true?  We thought we check it out.  The model was equipped, not stripped.  Power windows, keyless, A/C, automatic trans, cruise control.  Jim asked the sales guy what the catch was.  "No catch,", he said, "payments are exactly $125 a month. 12,000 mile per year are included.  Turn in the lease, pay nothing unless you want to buy it out."   We went for a long test drive.  Both Jim and I drove.  Not at the same time though as that would be awkward.  We wanted to know the payment on the the model that had a few extra bells and whistles like power seats, blue tooth, alloy wheels, fog lights, etc.  Payments would be $100 more a month.  Not worth it.  We negotiated.  In the meantime the original deal did indeed have a catch.  $1500 down plus tax, title, tag for an additional $1183.  Huh?  As we negotiated the 1183 went lower but the monthly payment went higher.  We finally said $150 a month, $1500 down.  Final offer.  They said no, we left.  We weren't really looking for a car that day.  We told them to call us if they need that extra sale for the end of the month at our price.  Was the ad on their website fair?  Almost makes me want to report to Better Business Bureau.
I thought about it later.  Maybe it's not so unfair to not include tax.  Everything we buy doesn't have disclaimers of "plus tax".  Restaurant menus.  Grocery stores.  So is it really that different?  NC vehicle purchase tax is 3% of the retail price (approximately $23000 X 3% = $690).  Is $690 more fair?  Obviously not the whole $1183.  We've just decided to put it off.  We don't NEED a new vehicle.  The Jeep is also to tow behind the motorhome.  If we keep it as an additional vehicle then we need a place to keep it.  Then we have registration tax each year.  Insurance.  It just becomes more of an expense to have 3 vehicles.  Unless the deal is perfect, we're done. 
Sometime ago, a local Bob Evans closed it's doors.  Eventually after a few months of renovations, the location reopened at Jim N Nick's Bar-B-Q.  It's a chain.  We along with our friend Beth, gave it a try .  It was pretty good.  After dinner we came back to the house, chit chatted and then eventually went out to Cold Stone for my birthday BOGO deal.  Yes, even on my birthday, we try to get a deal.